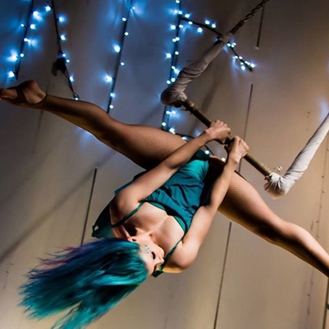 About school
Aerial Dance Studio exists since 2009. It's ran by Magdalena Sztencel – a semi-finalist of Poland's Got Talent!
Aerial Dance Studio is a meeting place for people connected by a passion for aerial dance, people looking for a unique atmosphere for training with others, mutual help and a possibility to share experiences.
The most popular props
All-year classes in our school include such props as: hammock, silks, aerial hoop and static trapeze. We also conduct cyclic workshops with rope, dance trapeze, swing pole, aerial net or vertical dance (wall running).
Intensive Aerial Summer Course
Don't you want to lose your form over the holidays? Or maybe it's a good time to try new things?
We would like to invite you to an intensive week at Aerial Dance Studio.
The program includes activities for both children and adults!
Youth and adults:
Silks,
Aerial hoop,
Aerial Hammock,
Aerial Combo – don't you know yet, which classes to choos or maybe you want to try many different aerial props? These is workshop for you! In the plan, we have: hammock, silks, aerial hoop, static trapeze, dance trapeze, rope, dancing on the wall, voltage, strabs and aerial net!
Children:
Silks
Static trapeze
Please send your application to: zapisy@aerialdancestudio.pl
For more information please go to:
July: https://www.facebook.com/events/1707752812646373/
August: https://www.facebook.com/events/2101291260129054/
#Click on the plan to enlarge