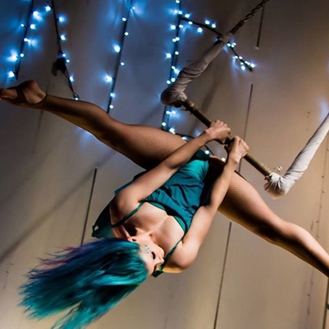 About school
Aerial Dance Studio exists since 2009. It's ran by Magdalena Sztencel – a semi-finalist of Poland's Got Talent!
Aerial Dance Studio is a meeting place for people connected by a passion for aerial dance, people looking for a unique atmosphere for training with others, mutual help and a possibility to share experiences.
The most popular props
All-year classes in our school include such props as: hammock, silks, aerial hoop and static trapeze. We also conduct cyclic workshops with rope, dance trapeze, swing pole, aerial net or vertical dance (wall running).
II Ogólnopolski Turniej Tańca w Powietrzu Strefy Wysokich Lotów!
On 11 and 12 January took place the Second Polish National Dance Competition in the Air of the High Flight Zone
Our pupils have been very successful in their performances.
Silver medal for Basia Kędzior in advanced soloists category 6-9 years old
Gold medal for Martyna and Olga Stankiewicz in the duo category 14-17 years old
Iga Cubrzyńska was awarded the gold medal in the intermediate advanced soloists category 10-13 years old and a Grand Prix
Gold medal for Basia Książczyk won in the advanced soloists category 14-17 years old
Bronze medal for Anna Piechucka in the advanced soloists category 18+
Bronze medal for Dominika Zychowicz in the advanced soloists category 18+
Gold medal was won by Ula Włodkowska in the advanced soloists category 18+
Gold medal in group 18+ and won the Grand Prix
our REPRESENTATION OF ADULTS:
Dominika Zychowicz
Katarzyna Szymańska
Ula Włodkowska
Anna Piechucka
Martyna Stankiewicz
Basia Książczyk
Marek Olszak
Congratulations to all competitors! You are awesome!